The Mega-Delta Database was officially launched
—Providing support for Scientific research and management decisions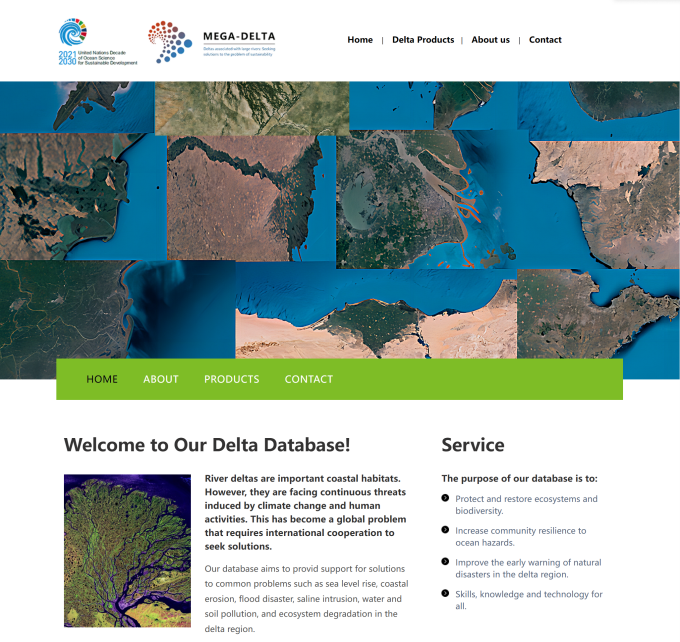 Recently, the Delta Database developed by the State Key Laboratory of Estuarine and Coastal Research, East China Normal University, was officially launched, becoming the first batch of open data under the support of the Mega-Delta Programme of the United Nations Decade of Ocean Science for Sustainable Development (2021-2030). From now on, the data can be accessed and downloaded through the Mega-Delta Database website (www.deltadatabase.tech).
The Mega-Delta Database currently contains data related to the Danube, Indus, Ganges and Nile delta regions, covering data sources in various fields such as hydrology and water resources, water and soil environmental quality, land use, and socioeconomic data. The database is characterized by multiple data types, large time span and high data quality, which can reflect the natural and human characteristics of the delta region as well as the historical changes and trends at long time scale in a comprehensive manner. The database supports open sharing, with strict data quality control, and can be used for further processing and analysis.
The database provides scientific research data for the sustainable development of estuarine and deltaic region, and also provides indispensable data support for scientific research and management decisions in many fields such as climate change research, water resources management, ecological restoration and conservation, and land use planning. The database will be continuously updated and expanded aiming to cover major river deltas around the world.
The construction of the Mega-Delta Database is supported by many authoritative research institutes all around the world. To protect the legal rights of the data providers, the authorized data can only be used for non-profit scientific research and educational activities.